Smallknot Profiles: Spruce
Smallknot loves local business, and every week we're profiling the people and places that make our neighborhood special.  Want to get covered in a Smallknot profile, or know someone who should be? Shoot us a message here. 
This week, we're speaking to Gaige Clark, founder, owner, and creative director of Spruce, one of the most highly acclaimed flower boutiques in New York City. Spruce was founded in 1998 and is based on 8th Avenue in Chelsea, soon to expand to Los Angeles. Their storefront is one of the most high-tech, beautiful shops you're likely to find anywhere — definitely worth a visit if you've never been! 
We caught up with Gaige earlier this week and talked about her passion for flowers, her signature style, and what it's like running her own business. 

Why are you passionate about flowers?
Growing up, I was always helping my mother out in her garden, and I really loved that. My great grandmother also used to sell flowers and had a farm, so it was in the blood.
I read that you're originally from New England, what brought you to New York?

I actually moved to the city to publish magazines; I didn't plan to be a florist. The magazine I worked for was in the corporate event industry, and I was doing consulting on the side. I was doing consulting work for a floral designer and suggested that she purchase a flower shop. She didn't want to, so I took the opportunity. I quit my job and purchased the shop, rebranded it, and turned over the existing clientele. I worked very hard to make it into what Spruce is today.
Do you have a signature style for your arrangements? 
My style is called the New England Garden, which I developed entirely by myself. It's clean, fresh, and tailored. What sets this style apart is that the flowers look as if they're growing out of the container.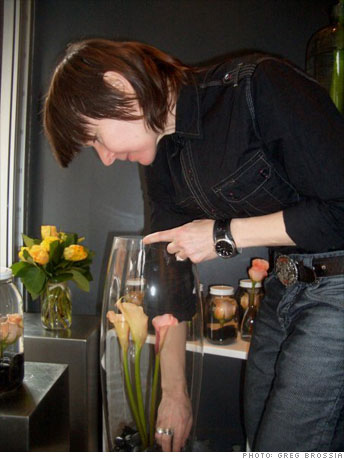 What is your favorite thing about having your own business? 
Autonomy. I'm able to basically spend my time exactly how I liked to spend it. This gives me a lot of creative freedom. 
What is the most challenging aspect? 

Managing employees!
Any advice for other small business owners?
Be true to your own visions; become clear on exactly what that is yourself. This is especially important in the creative business.  Yves Saint Laurent never waivered from his ideas, and that's what made him successful.  I employ that with my design and creativity.  A great designer is true to herself. 
Spruce is located on 222 8th Ave. between 20th and 21st St. in Chelsea.